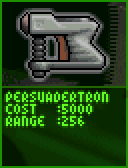 This will be your second mission, and as such is fairly easy; all you have to do is kill three guards and walk close up to two people, then go home. Before you even start the mission though you'll have to buy a pursuadertron.

Head due west, and at the far end of the city you'll see a building with three police guards outside - you can't miss the building as there'll be a big circle emminating from it on the scanner, and you get closer you'll here the "bings" get closer together. Just go into panic mode and walk towards the guards, and your agent will take them out.

Head due north, and you'll find the second person you have to pursuade - no guards this time, just walk into the building and capture the second person. Now walk slowly to the east, pausing every so often to left your victims catch up, until you reach the east side, and from there go back to the exact spot you started on and wait for you victims to get there too for the level to end.