There are three major enemy forces converging on your position, so the first thing you need to do is take care of them before even considering the assassination itself.

You start off near a small subterranean opening, where the third group will appear later. However, instead of waiting around to get slaughtered, head south (with full adrenalin, but not panic mode as you start right next to a cop) to a road crossing. As you approach you may see a number of cars; if you like, shoot at these just enough to get them to stop so you can use them as barricades, but keep your distance a little so your agents don't get damaged if the cars are destroyed.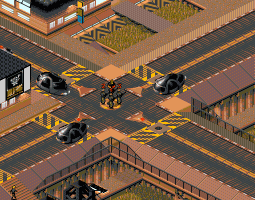 The first group of agents will come from the west; you should be able to take these out at long range using mini-guns, but if they get too close pull back a little and destroy one of the cars if you stopped one coming from that direction. You might also consider lasers, but if you only have one per agent you might want to save them until later.

The second group will come from the south; these are easier to handle. Take out the leaders and they'll drop time bombs; shoot at these time bombs to take out the agents, and pick off any stragglers quickly. Again, using a car as a barricade and destroying it as the enemy come near will make this even easier.