Not too many enemy forces in this one, and an easy main mission - but the twist is that the enemy are all packing long range rifles.

Heading west there are two main enemy squads; the first will appear from under a building to the north and engage your squad at long range. A second squad surrounds the target; if you engage the first squad for any length of time the second will come down and join the fight.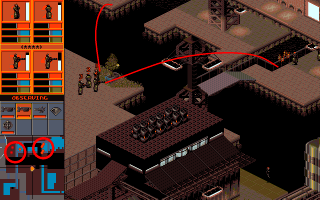 There are two choices; equip your agents with long range rifles and hope for a better firing rate - which is fairly easy if you take direct control - or use shorter range but higher power weapons, hiding behind bits of building or scenery and only coming out to fire when the enemy comes into range. Lasers give you a little of both - you'll still need to hide to keep out of range of the rifles, but you at last have a little more range than standard mini-guns and a quicker kill. The long-range method is safer but takes longer; the hiding method is a bit more risky but is over sooner.